#36 – Glass Onion and Other Streaming Mysteries
Knives Out, Unexplained Disappearances at HBO Max, and more!
5 months ago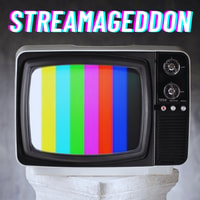 We saw the latest Knives Out mystery in theaters and we have spoiler-free thoughts to share to help you get excited to stream it on at home!
We'll discuss Netflix's latest experiment with a hybrid theatrical/streaming strategy, plus the other mysteries plaguing the streaming universe, such as…
Cecily Strong's sudden departure from SNL!
Peacock's puzzling pivot!
And all the suspicious disappearances plaguing HBO Max…
It's a case only Benoit Blanc can solve, but unfortunately you're stuck with us instead!
———
📺 Review: Glass Onion
🚨 Extremely light spoilers starting at 44:29, but really we're not spoiling this one for you!🚨
Where to Watch: Netflix (December 23)
Sequel To: Knives Out, baby!
———
🔗 Links:
———