#22 – The Patient
Rewind Review: The Resort
Sep 9, 2022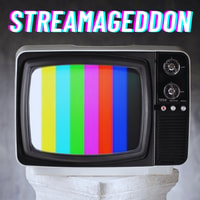 Pick up some pork buns and chain your ankle to the floor because we're digging into a delicious drama this week with the intriguing short-form limited series The Patient now streaming via our favorite FX: FX on Hulu.
Speaking of favorites: It's about time we made our case for the emotionally satisfying— if imperfect— season finale of Peacock's The Resort.
All that plus dwarves, trolls, and the ancient history of a mystical land known as the CW!
———
📺 Review: The Patient
🚨 Spoiler Alert for Episodes 1 and 2 (starting at 36:10) 🚨
Number of Seasons Overall: 1 (In Progress)
Where to Stream: FX on Hulu
———
📼 Rewind Review: The Resort
🚨 Spoiler Alert for ALL EPISODES (starting at 55:15) 🚨
Number of Seasons Overall: 1
Where to Stream: Peacock
———
🔗 Links:
———