#13 – Obi-Wan Kenobi
The one with Hayden Christensen's bus fare.
Jun 10, 2022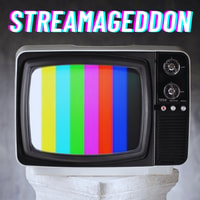 This week we're force-ing ourselves to see both the light and dark sides of the newest Star Wars series: Obi-Wan Kenobi (like Ewan McGregor, we are cranky old dad-types now and our jokes will reflect that). We're reviewing the first four episodes and making our predictions for the final two!
We'll take a look at the "Marvel-ization" of the Star Wars universe that's accelerated since the launch of Disney+ (try to guess how many Star Wars shows are currently in development!) and we'll try to answer this week's big questions from the streaming universe. Questions like…
Is it cake?
What is "Breaking News" anyway?
Wait, Premier League Cricket is worth how much?
Do you think J.J. Abrams will take our notes about his sci-fi epic Demimonde and give Demi Moore the Emmy she deserves??
No really, is it cake??!
And can Netflix pivot to blockbuster movies? In this economy?!?!!
———
📺 Review: Obi-Wan Kenobi
🚨 Spoiler Alert for Episodes 1-4 (starting at 26:31) 🚨
Episodes Watched for Review: 4
Number of Seasons Overall: 1
Where to Watch: Disney+
Spinoffs: Something called "Star Wars"
———
🔗 Links:
———