#31 – The White Lotus (Season 2)
The one with extra CBS flavor!
Nov 11, 2022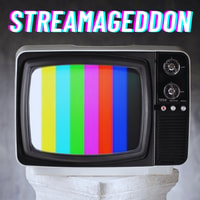 Ciao! And welcome back to another season of sexy potential murder victims (and Jennifer Coolidge victims) on HBO's breakout hit The White Lotus (now with extra Sicily!). We're sharing our thoughts on the season premier, discussing why expectations for the show might be unrealistically high, and making our predictions for this new installment of Mike White's excellent anthology series.
But first we're unpacking three strange news stories you might've missed:
The holidays are almost here which means we've got a roundup of all the exclusive merch Disney is dying to sell you… if you subscribe to Disney+ (Bob Chapek would hate to see this limited edition Lightsaber fall into the wrong hands…).
Is Disney merch not your style? Well then Netflix would like to invite you to your local Wal-Mart for some good old fashioned corporate synergy (and popcorn!).
And just in case you forgot that the holiday are almost here (terrifying, we know) Peacock is continuing its grand pivot from NBC-style comedies to… Hallmark original movies? Sure, why not?!
Plus a startling Simpsons confession from Dianne, our favorite anthologies of all time, and we accidentally introduce a brand new segment: TV TAROT!
So join us, won't you? It's in the cards…
———
📺 Review: The White Lotus (Season 2)
🚨 Spoiler Alert: Season 2, Episode 1 (starting at 37:19) 🚨
Number of Seasons Overall: 2 (Season In Progress)
Where to Watch: HBO and HBO Max
———
🔗 Links:
———