#54 – How To with John Wilson, Hulu's Animayhem, and Which Streamer You Should Cancel RIGHT NOW
The one where you have to listen to the episode to find out which streamer you should cancel right now.
Aug 11, 2023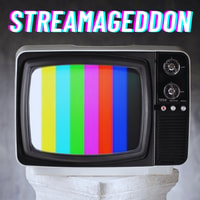 We're sharing life lessons this week with our favorite episodes of HBO's How To With John Wilson (now in its third and final season) plus the inaugural edition of our new segment that helps you make the most of your streaming budget: Add / Keep / Cancel (like F@%& / Marry / Kill, but for streaming!).
But wait, there's more! Because we're digging into the Animayhem at Hulu, and playing America's favorite game— with a twist! Yes, it's a special all-animation edition of Renewed or Canceled!
———
📺 Review: How To With John Wilson
🚨 Light Spoiler Alerts for… 🚨
How To Find a Public Restroom (S3 E1)
How To Make the Perfect Risotto (S1 E6)

How To Throw Out Your Batteries (S2 E4)

Number of Seasons Overall: 3 (Season In Progress)

Renewal Status: Ending
Where to Watch: HBO (a.k.a. "The Max App")
———
🔗 Links:
———