#27 – Reboot
The one with bundle envy.
7 months ago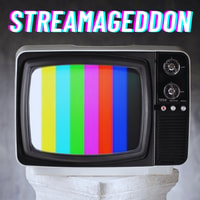 Generational comedy works best when the writers understand the generations involved, but does Hulu's new Hollywood satire Reboot deliver on the pilot's surprising twist? You'll have to listen to our review of the first there episodes to find out!
Plus all the news you didn't know you needed to know:
SNL's Charmin Bears deny any undue Charmin influence
Peacock is thrilled to announce that they finally convinced some people to watch Peacock (just don't ask them about their Bundle Envy)
Comedy Central's identity crisis comes Ito focus
Paramount's late night dominance is in doubt
HBO Max's disco daddy Warner Bros. Discovery continues its animation purge (Anime Edition!)
And we play everyone's favorite game: Renewed or Canceled?!
———
📺 Review: Reboot
🚨 Spoiler Alert: First 3 Episodes (starting at 30:13) 🚨
Renewal Status: To Be Announced
Releases: Weekly, Tuesdays through October 25
Where to Watch: Hulu
———
🔗 Links:
———