#29 – Interview with the Vampire
The one with all the Netflix news.
Oct 25, 2022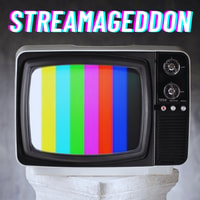 We're taking a bite out of spooky season by doing the scariest thing imaginable: Trying a new streaming service! 😱
Join us as we explore the haunted halls of AMC+ with a truly terrifying game designed to test your undead knowledge (because like half the shows on AMC+ are Walking Dead spin-offs). If you dare survive this hair-raising trial you'll be treated to our surprisingly enthusiastic review of Interview with the Vampire, which is so good it just might lure you into subscribing…
BUT FIRST:
A boatload of Netflix news!
No, really! The password crackdown is nigh!
Some Trevor Noah news!
Some Trevor Noah NETFLIX news!
And, yes, even MORE Netflix news!
———
📺 Review: Interview with the Vampire
🚨 Spoiler Alert: First 2 Episodes (starting at 32:24) 🚨
Renewal Status: To Be Announced
Releases: Weekly, Sundays through November 13
Where to Watch: AMC and AMC+
———
🔗 Links:
———