#38 – Kaleidoscope, Good Gimmicks, and Bad Vibes
Streaming is look very -ageddon in 2023...
4 months ago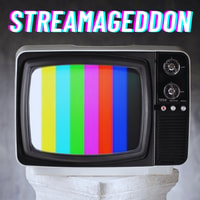 We love a good storytelling gimmick and this week we're sharing our favorites (and least favorites) as we unpack the new Netflix heist series Kaleidoscope.
Plus we answer all your burning questions, like:
What did HBO Max erase from existence while we were on vacation?
Who is hosting The Daily Show now that Trevor Noah is gone?
Why is Netflix teaming up with Nike?
And is the streaming universe doomed in 2023?!
But first it's a surprise round of America's favorite game: Renewed or Canceled?! Play along as Dianne guesses the fate of these streaming shows:
1899 (Netflix)
61st Street (AMC)
Wednesday (Netflix)
Dangerous Liaisons (Starz)
Step Up (Starz)
Can you go 5 for 5? Lock in your guesses now and find out in this week's episode.
———
📺 Review: Kaleidoscope
🚨 Spoiler Alert starting at 43:34 🚨
Where to Watch: Netflix
Total Episodes: 8 Episodes, 1 Season
Renewal Status: No Renewal Announcement (Limited Series)
Watched for Review: All 8 Episodes
———
🔗 Links:
Contains spoilers for "Renewed or Canceled?!"
———