#30 – Rewind: The Patient (Season 1)
The one with Bob Chapek's panopticon of Disney magic.
2 months ago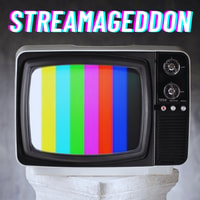 Death pays us a visit as we go on a spoiler spree with a full season review of Hulu's killer Steve Carell/Domhnall Gleeson drama FX's The Patient (…on Hulu).
But don't worry! We promise not to sneak up on you with any spoilers, because there's plenty to talk about first:
Did HBO retake the iron throne of prestige fantasy drama (which is definitely still a thing) with its HotD?
Disney CEO Bob Chapek dreams of using your Disney+ viewing data to create a panopticon of magic on your next visit to one of his many all-seeing, all-knowing theme parks. What's not to love about that?
Netflix prepares us for the pending password crackdown by ending some of its home-sharing pilots in Latin America…
… but don't you want to pony up for a new season of Girs5Eva? Peacock punts the third season of the comedy to Netflix and leaves us wondering if Peacock still Peacocks comedy.
Plus: Join Dianne as she plays the hot new game that proves Peacock still has wings: It's Peacock or NOT?!
———
📺 Review: The Patient (Rewind Review)
🚨 Spoiler Alert for All 10 Episodes (starting at 29:36) 🚨
———
🔗 Links:
———