#16 – Only Murders in the Building
The one with Crystal Buddiez.
8 months ago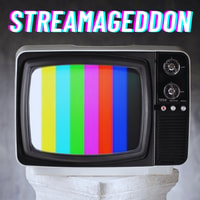 We're sending the investigation in a whole new direction this week with our impressions of Season 2 of Hulu's hit series Only Murders in the Building. It's a wildly inaccurate portrayal of podcasting, but a delightful and empathetic look at the cloistered lives of quirky city dwellers (Caution: Contains highly relatable and extremely awkward interactions with neighbors).
Then we're revisiting our review of Season 1 of Showtime's I Love That For You. It's a series that piqued our interest but left us worried the dark twist would sink the stellar comedic performances. So, how did it turn out for Joanna Gold at SVN? You'll have to listen to the end to find out!
———
📺 Review: Only Murders in the Building
🚨 Spoiler Alert for Season 1 (All Episodes) and the first 3 Episodes of Season 2 (starting at 22:49) 🚨
Number of Seasons Overall: 2
Where to Watch: Hulu
———
📼 Rewind Review: I Love That For You
🚨 Spoiler Alert for ALL EPISODES (starting at 46:45) 🚨
Number of Seasons Overall: 1
Where to Watch: Showtime
———
🔗 Links: