#56 – The Meryl of It All: Disney Drama, Cable Clash, and Only Murders (Season 3!)
The one with Bob Iger's bathroom.
Sep 12, 2023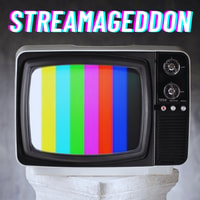 We're teaming up and uncovering all the secrets inside the House of Mouse: From the drama over Bob Iger's bathroom (really!) to the mysterious disappearance of ESPN and other Disney-owned channels for Charter and Spectrum cable customers. (We even have the latest details on the last-minute deal they struck on Monday!)
Plus: Why is Comcast eagerly moving up the Hulu sale? What does Brian Roberts know that we don't?? And is it the identity of Ben Glenroy's killer?!
Yes, we're also digging into season 3 of Only Murders in the Building, which just passed the halfway point and is turning into quite the whodunit. Except this season one of the whos who might've dunit is none other than Meryl Streep. What does her celebrity star power do to the carefully-balanced gravity of our beloved Hulu comedy? Listen through to the end of the episode to find out our opinions on "the Meryl of it all" and our predictions about the identity of the latest killer stalking the halls of the Arconia.
But first! Join us as we…
Catch up on the Hollywood strikes!
Discuss Rolling Stone's bombshell piece about the toxic culture at Jimmy Fallon's Tonight Show.
And pour one out for Quibi (again!).
———
📺 Review: Only Murders in the Building (Season 3)
🚨 Spoiler Alert: All Episodes through Season 3, Episode 6 (starting at 41:23) 🚨
Number of Seasons Overall: 3 (Season In Progress)
Where to Watch: Hulu
When to Watch: New episodes release Tuesdays
———
🔗 Links:
———