#43 – We Get Down with 'Party Down'
The one with national treasure Ken Marino.
13 days ago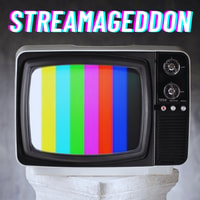 After over a decade off the air the comedy Party Down is back, but can it still serve the laughs? (First you're going to have to figure out how to give STARZ your $3 to tune in, but we'll get you caught up in meantime!)
Plus: Peacock doubles down on the success of Poker Face by reminding us that they've got plenty of Monk to tide you over until season 2 of the Natasha Lyonne hit. Oh, and maybe they're threatening to kill off Monk in a new Monk movie? No biggie.
Speaking of movies: What the heck is going on with Netflix's movie strategy and why don't they want spend $180 million on the new Nancy Meyers romcom? (But $150 million was totally cool, obvi.)
And HBO celebrates another breakout hit with The Last of Us surpassing House of the Dragon, but that's not enough to make Disney+ pay to keep streaming HBO's content in India.
Wait, why is Disney streaming HBO's content in India? Where's MAX in all this mess? Someone get us David Zaslav, STAT! (And while we have his attention could he greenlight our Barry spinoff starring NoHo Hank?)
———
📺 Review: Party Down
🚨 Spoiler Alert: The first 3 episodes of Season 3, plus assorted spoilers from Seasons 1 & 2 (starting at 24:30) 🚨
Number of Seasons Overall: 3 (Season In Progress)
Where to Watch: STARZ
Where to Stream Past Seasons: Hulu
———
🔗 Links:
———