#6 – Super Pumped: The Battle for Uber
The one with the Peacockalypse!
Mar 11, 2022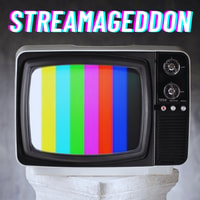 This week we're reviewing Showtime's Super Pumped: The Battle for Uber and we're so pumped we might say "super pumped" even more times than Joseph Gordon-Levitt does in the pilot.
But first, in the news: We're super pumped for the Peacockalypse (coming this fall to Hulu!), but we're super NOT pumped about Disney CEO Bob Chapek's pathetic response to Florida's "Don't Say Gay" bill. And only time will tell if we'll ever be super pumped for streaming news services like CNN+ and Peacock's new "MSNBC Hub on Peacock" (in case you weren't aware that it's on Peacock). Oh, and for some reason Chris's Roku wants him to know that Judge Jeanine Pirro has a thing for American castles (of which there are… many?).
———
📺 Review: Super Pumped: The Battle for Uber
🚨 Spoiler Alert for Episodes 1-2 (starting at 39:05) 🚨
Episodes Watched for Review: 2
Number of Seasons Overall: 1
Where to Watch: Showtime
Where to Watch the Pilot: Free on YouTube!
Spinoffs: Supposedly in the works
———
🔗 Links:
———