#60 – The Highs and Lows of Loki
The one where we try to escape to a better timeline.
Nov 8, 2023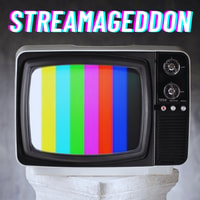 It's a big week for the Marvel Cinematic Universe (but please don't make us call it that), and we're celebrating with a deep dive into Loki ahead of this Thursday's finale that seems destined to set up the next phase of Avengers mayhem (whether we like it or not).
We'll be back in your feeds next week with our thoughts on the season finale, but that's not the only Marvel-ing in the news: After months of reshoots and delays The Marvels hits theaters this weekend and promises to reunite us with some of our favorite characters from the Disney+ series WandaVision and Ms. Marvel (if only we can remember those long-ago shows).
We'll dive deep into the interconnected Marvel mess and discuss whether the company's new "Spotlight" branding for more standalone series will chart a new path forward.
But first! We're asking the hard questions that the streaming universe refuses to answer:
Just how much is a Hulu worth these days? (Disney is about to find out!)
What's going on with the forbidden episode of Bluey?
Who has the better strategy to jam ads in our eyes: Netflix or Amazon?
Why is YouTube willing to lose over a billion dollars a year just to carry NFL Sunday ticket?
And should Marvel arch-villain Kang be replaced?? (Spoiler alert: Yes!)
———
📺 Review: Loki (Season 2)
🚨 Spoiler Alert: All Episodes through Season 2, Episode 5 (starting at 46:45) 🚨
Number of Seasons Overall: 2 (Season In Progress)
Renewal Status: Doomed to set up another movie
Where to Watch: Disney+
Season Finale Premiers: Thursday, November 9
Spinoffs: It's more like an ouroboros at this point (get it?)
———
🔗 Links:
———