#59 – Marvel's Frasier Invasion
The one where everyone raises their prices.
Oct 27, 2023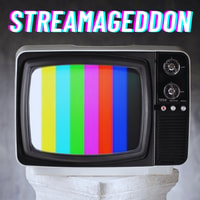 1990s Pacific Northwest radio icon Dr. Frasier Crane is back, but is the new Boston-set reboot of Frasier really listening to what viewers want? We'll share some of our favorite classic Frasiers and compare them to the new Paramount+ reboot (which, like the sherry at a Bean Town bar, we found… questionable).
But first!
Chris shares his love of CNN Max (he's aware this makes him a middle aged man now, thanks for asking!)
The Daily Show announces more guest hosts (including some returning favorites!)
Dianne learns the difference between Space Whales and Earth Whales (it's a sci-fi thing!)
Price hikes at both Netflix and Disney+ leave Chris and Dianne wondering how much spaceships and comic books are really worth these days…
…and it turns out Marvel is asking itself the same thing?? We'll explain!
———
🥗 Review: Frasier (2023)
🚨 Spoiler Alert: First 3 Episodes 🚨
Where to Watch: Paramount+
New Episodes Release: Weekly, on Thursdays
Spinoffs: Yes, it is.
———
🍳 Bonus Review: Frasier (1993)
🚨 Spoiler Alert for… oh come on, it's Frasier! 🚨
Number of Seasons Overall: 11
Where to Watch: Paramount+, Amazon Prime Video, and Hulu!
Spinoffs: Yes, it is.
———
🔗 Links:
———