#55 – Why You Should Still Be Watching What We Do in the Shadows
The one where we embrace the discouraging vibes!
Aug 30, 2023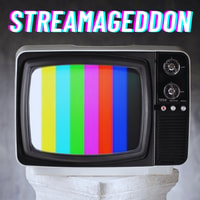 We're back from our hot streaming summer vacation and ready for a sweaty (and depressing) streaming fall! We'll summon some laughs with our review of FX stalwart What We Do in the Shadows (wrapping its fifth season this week!) and try our best to conjure some good news after a bleak August.
But first! Get excited for a surprise round of Renewed or Canceled?! (Discouraging Vibes ONLY Edition) and a deep dive into the existential questions plaguing the streaming universe:
What exactly will be airing on network TV this fall? And just how many of those things are Bachelor-themed?
What's the deal with the price hikes at Disney+ and Hulu? Listen in as we struggle to understand our options in real time!
And speaking of Disney: What are they going to do with ESPN?!
———
📺 Review: What We Do in the Shadows (Season 5)
🚨 Light Spoilers for this Vampire Comedy (starting at 26:15) 🚨
Number of Seasons Overall: 5 (Season Finale This Week)
Where to Watch: FX (Next Day on Hulu)
Where to Stream Past Seasons: Hulu
———
🔗 Links:
———