#41 – Peacock's Poker Face, Showtime's Untimely Demise, and The Last of Us!
The one with all the corrections.
1 month ago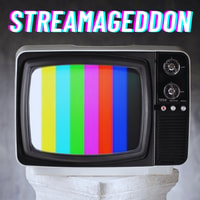 Rian Johnson's Poker Face is a sly new case-of-the-week detective series anchored by Natasha Lyonne's performance as Charlie Cale, a woman on the run with one special skill: She can always tell when someone is lying. Oh, and everywhere she goes someone seems to die. Thankfully the lie thing usually helps her solve the murders, so it all works out in the end!
The series is arguably Peacock's first bonafide hit, but is it any good? We unpack the pros and cons of the show's throwback format: Inspired by classics like Columbo and Law & Order: Criminal Intent (classics, I say!) each episode of Poker Face reveals the murderer at the start of the episode and asks us to watch Charlie try to piece it together.
Plus! We check-in on The Last of Us and answer these burning questions about the streaming universe:
Why is Paramount+ absorbing Showtime and who chose the service's terrible new name?
Why is Discovery+ not being absorbed into HBO Max anymore? (Except it still sort of is, but then what does that mean??)
How many Billiions spinoffs is too many Billions spinoffs?
Is anyone actually going to pay for Peacock?!
And speaking of money: How much could one banana cost, Michael? Ten dollars? (Apparently too much for Netflix! We'll explain…)
———
📺 Review: Poker Face
🚨 Spoiler Alert: First 4 Episodes (starting at 35:47) 🚨
Renewal Status: Renewed for Season 2
Where to Watch: Peacock
———
📺 Check-In: The Last of Us
🚨 Spoiler Alert: First 5 Episodes (starting at 56:13) 🚨
Renewal Status: Renewed for Season 2
Where to Watch: HBO/HBO Max
———
🔗 Links:
———