#45 – David Zaslav's Max-tacular! (Feat. HBO)
The one with all that quality content!
1 month ago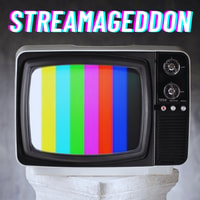 HBO Max is dead! Long live HBO… and, uh… Max! Just separately! But together! Also House Hunters is there! MAX!
(Don't worry, we'll explain.)
But first! Join us as we cruise through the week's other big streaming stories sipping champagne with Conor and the gang (like the HBO loving coastal elite we know you are):
The Mario Movie broke records, but finding it on streaming will only break your brain.
WWE and UFC merged, but what will that mean for everyone's favorite streaming bird: Peacock?
Disney tries to reassure fans that Star Wars is definitely, maybe, probably going to make another movie…
… and that they promise they won't make us watch another season of Obi-Wan Kenobi (uhh… kind of a weird flex, but okay!).
But no troubled franchise is troubled quite like Amazon's The Rings of Power, which even fans struggled to finish. We'll share the eye-popping details from Kim Masters at The Hollywood Reporter.
Rumor has it the mad scientists at HBO are getting ready to invent prequel inception with a Game of Thrones prequel prequel…
… but first we're all taking a trip to Thailand with The White Lotus!
And, of course, we convene an emergency check-in after last weekend's big episode of Succession.
———
📺 Review: Succession (Emergency Check-In)
🚨 Spoiler Alert for All Episodes through Season 4, Episode 3 ("Connor's Wedding") (starting at 34:20) 🚨
Number of Seasons Overall: 4
Renewal Status: Going out on top, y'all!
Where to Watch: HBO, Sundays at 9 PM ET
Where to Stream: HBO Max (Er, "MAX")
———
🔗 News Links:
———
🔗 Succession Links:
Spoiler Alert, of course!
———