#39 – The Last of Us, CNN, and Other Zombies on TV
The one where we solve the cable news crisis with Amy Sedaris and Depeche Mode.
4 months ago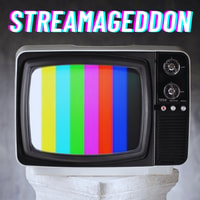 Finally, a show that answers the age-old question: "What if The Mandalorian let us see Pedro Pascal's face and had a sidekick who can talk?"
Yes, this week we're streaming a different -ageddon: It's the kind of armageddon that puts the "fun" in fungal… but is it any good? We're reviewing the pilot of HBO's The Last of Us in order to find out!
On the way we'll discuss the latest streaming news and TV's rich history of post-apocalyptic fare (and not-so-rich history of live action video game adaptations).
But first it's an emergency round of America's favorite game: Renewed or Canceled?! Play along as Dianne guesses the fate of these streaming shows:
Abbott Elementary (ABC/Hulu)
FX's The Bear (Hulu)
Uncoupled (Netflix)
Workaholics (Comedy Central/Paramount+)
Pitch Perfect: Bumper in Berlin (Peacock)
Chucky (SyFy)
Reginald the Vampire (SyFy)
Snowpiercer (TNT)
Minx (HBO Max)
Mel Brooks' History of the World Part I (Really!)
Can you go 10 for 10? Lock in your guesses now and find out in this week's episode.
———
📺 Review: The Last of Us (Series Premier)
🚨 Spoiler Alert: First Episode (starting at 38:42) 🚨
Where to Watch: HBO/HBO Max
Total Episodes: 9 Episodes, 1 Season (In Progress)
Renewal Status: Not announced (but based on the ratings we'd be surprised if it doesn't get the green light soon)
———
🔗 Links:
Contains spoilers for Renewed or Canceled?!
———