#12 – Saturday Night Live (Season 47)
The one with Colleen Rafferty.
3 months ago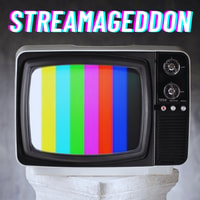 Check out our YouTube playlist featuring some of our favorite SNL moments!
———
Live from New York… it's your favorite podcast about TV and streaming! This week we take a break from reviewing the newest and buzziest shows so we can review one of the oldest and buzziest shows: NBC's Saturday Night Live. We'll break down the recent season finale of the sketch comedy show's 47th year, share some of our favorite all-time SNL moments, and discuss this year's big cast departures and what it means for the future of the show.
Plus new details on the upcoming ad-supported version of Disney+, the latest on the Netflocalypse, big names coming to streaming news, and Chris corrects the record in regards to Ted Danson.
———
📺 Review: Saturday Night Live (Season 47)
🚨 Spoiler Alert for Season 47, Episode 21 (Natasha Lyonne with Musical Guest Japanese Breakfast) (starting at 53:21) 🚨
Number of Seasons Overall: 47 (!!!)
Where to Watch: NBC
Where to Stream: Peacock (And Hulu, but only until this fall)
Spinoffs: Countless
———
🔗 News Links:
———