#24 – Los Espookys
The one with the hard bundle.
8 months ago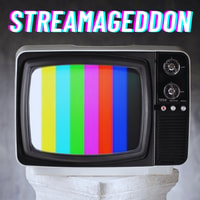 We don't want to alarm you, but this week we find ourselves trapped inside a cursed mirror… and loving every minute of it!
That's because we're talking about the one-of-a-kind comedy Los Espookys, which just returned to HBO and HBO Max for its second season after a terrifying 3 year hiatus.
Plus we'll explain why rumors of Warner Bros. Discovery's demise are nothing to worry about, then discuss why we're worried that Warner Bros. Discovery is doomed anyway (at the hands of Comcast?! The horror!). And speaking of horror: We're going to unpack Disney CEO Bob Chapek's "hard bundle" even if it means risking "organ rejection" (his words!). Tune in… if you dare!
———
📺 Review: Los Espookys
🚨 Spoilers for Season 1 (All Episodes) starting at 24:01
🚨 Spoilers for Season 2, Episode 1 starting at 49:29
Number of Seasons Overall: 2 (In Progress)
Releases: Weekly, Fridays at 11 PM ET
Where to Watch: HBO and HBO Max
———
🔗 Links:
———