#17 – The Rehearsal
Plus: We review the Ms. Marvel finale!
2 months ago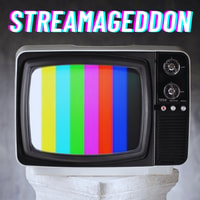 We've spent weeks practicing this podcast so we can anticipate every possible outcome of our review of the new HBO series The Rehearsal. The show marks Nathan Fielder's return to the experimental reality-TV-influenced comedy he pioneered on Comedy Central's Nathan For You, but don't worry if you've never heard of him! We'll get you caught up and share our thoughts about ethical quandaries inherent in Fielder's work.
Plus: Netflocalypse! Serial killers! And our rewind review of Ms. Marvel season 1!
———
📺 Review: The Rehearsal
🚨 Spoiler Alert for Episode 1 (starting at 29:45) 🚨
Number of Seasons Overall: 1 (In Progress)
Where to Watch: HBO Max (Also Airing Fridays on HBO)
———
📼 Rewind Review: Ms. Marvel
🚨 Spoiler Alert for ALL EPISODES (starting at 52:41) 🚨
Number of Seasons Overall: 1
Where to Watch: Disney+
———
🔗 Links:
———