#11 – I Love That For You
The one with Crackle.
May 13, 2022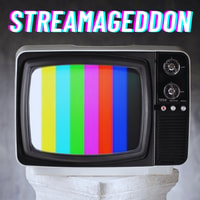 We love this episode for you, and not just because we're reviewing the new Showtime comedy I Love That For You starring Vanessa Bayer, Molly Shannon, and Jenifer Lewis.
Plus: Netflix accelerates their plan to introduce ads (and crack down on password sharing), Disney+ beats growth expectations, Hulu plans for the post-NBC world by picking up Schitt's Creek, and we discuss the best (and worst) rated shows on a strange streaming service called Network TV (we hope you like Dick Wolf spinoffs!).
———
📺 Review: I Love That for You
🚨 Spoiler Alert for Episodes 1-2 (starting at 59:31) 🚨
Episodes Watched for Review: 2
Number of Seasons Overall: 1
Where to Watch: Showtime
———
🔗 Links:
———