#42 – Not Dead Yet, American Auto, The Daily Show, and... Bing?
The one where Bing makes our eyes bleed.
27 days ago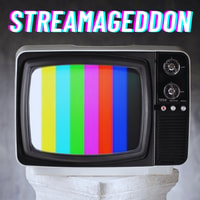 There's the threat of a writers strike looming over Hollywood, so this week we invited the new Bing chatbot to join us in the hopes of befriending our new cloud-based creative overlords. Take it away, Bing!
"Hello, this is Bing. Welcome to Streamageddon, the podcast where we review everything streaming and TV. In this episode, we'll take a look at two mid-season network sitcoms: Not Dead Yet on ABC and American Auto on NBC.
"But that's not all. We'll also check in on the guest hosts at The Daily Show, discuss the impending end of Succession, try to explain Paramount's new pricing strategy and play America's favorite game: Renewed or Canceled?!
"You don't want to miss this episode of Streamageddon!"
(Check out the bonus segment at the end of the episode where we fact check Bing!)
———
📺 Review: Not Dead Yet
🚨 Spoiler Alert: First 2 Episodes (starting at 48:36) 🚨
Renewal Status: Not Announced
Where to Watch: ABC
Where to Stream: Hulu
———
📺 Review: American Auto
🚨 Spoiler Alert: First 2 Episodes of Season 2 (starting at 1:02:19) 🚨
Number of Seasons Overall: 2
Renewal Status: Not Announced
Where to Watch: NBC
Where to Stream: Peacock
———
🔗 Links:
———