#47 – Writers Strike, NBC Turmoil, and 'Citadel' Spends $300 Million On Some Spy Stuff
The one where we delete your memories.
23 days ago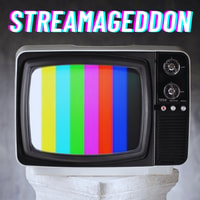 The Writers Guild of America is on strike demanding a more equitable deal for streaming rights and we're here with the entirely biased news and analysis you deserve as a true connoisseur of streaming. Coincidentally (really!) we're reviewing the $300 million Russo Brothers spy series Citadel that just premiered on Amazon Prime Video. (Spoiler alert: We think there are better ways to spend $300 million.)
Plus:
We'll take a look at which shows are immediately impacted by the strike.
Roy Wood Jr. hosts the White House Correspondents Dinner.
The Super Mario streaming story gets Super Confusing… again.
And, oh yeah, the head of NBC got fired in a scandal that tangentially involves Vladimir Putin and somehow that's not the biggest story of the week.
———
📺 Review: Citadel
🚨 Spoiler Alert: First 2 Episodes (starting at 40:53) 🚨
Renewal Status: Renewed for Season 2
Where to Watch: Amazon Prime Video (Streaming Weekly)
Spinoffs: Several reportedly in the works
———
📼 Rewind Review: The Night Agent
🚨 Spoiler Alert for ALL EPISODES (starting at 1:00:38) 🚨
Number of Seasons Overall: 1
Renewal Status: Renewed for Season 2
Where to Watch: Netflix
———
🔗 Links:
———