#48 – Jury Duty on Freevee, Disney Devours Hulu (If You Want), and The Future? It's Ads!
The one with MaxCock.
May 19, 2023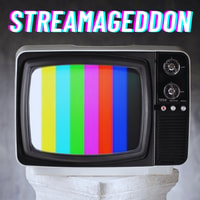 The fall TV lineup is taking shape and it's looking bleak if you're a fan of… scripts. We'll have the latest on the WGA strike, plus some big reveals from the biggest streamers:
Disney loves Hulu (and ads)
~~HBO~~ Max loves bundles (and ads)
And Netflix just loves ads!
Speaking of ads, we're diving into the FAST-paced world of Free Ad-Supported Streaming TV with Amazon Freevee and the charmingly odd original series Jury Duty.
———
📺 Review: Jury Duty
🚨 Spoiler Alert: First 2 Episodes (starting at 33:00) 🚨
Renewal Status: Renewed for Season 2
Where to Watch: Amazon Freevee (all episodes streaming)
———
🔗 Links:
———